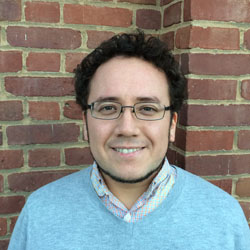 Contact Information:
Office: 238
Lab: 232 y (CBC 230-231)
Email: marvin.bayro@upr.edu
EDUCATION:
BA in Chemistry and Physics. Rutgers University. New Brunswick, NJ.
PhD in Physical Chemistry. Massachusetts Institute of Technology. Cambridge. MA.
Postdoctoral Fellow, National Institutes of Health. Bethesda, MD.
RESEARCH INTEREST:
Current research efforts in the Bayro laboratory are centered on understanding the processes of particle formation and maturation by the human immunodeficiency virus type 1 (HIV-1) at the atomic level. For this purpose, they have developed solution and solid-state NMR methods tailored for the analysis of protein-protein and protein-lipid interactions and protein assemblies in the context of virus-like particles. Other projects include the study of protein-nanoparticle interactions, the development of protein encapsulation assessment techniques, and the structural and dynamical characterization of potential anti-cancer proteins.